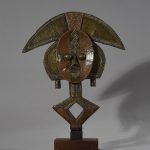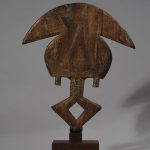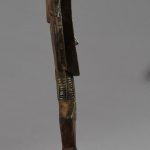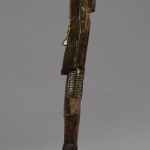 NAK 0518-8
Bakota, Reliquary Figure, Gabon

This is a very fine and old Bakota reliquary, mwete. It appears in its traditional flat, abstract shape with an oval concave face and stylized coiffure. The figure is made of wood and is covered in glossy metal (brass or copper) for the purpose of shining at night to protect against evil along with the outstretched eyes that are meant to 'see all'.
All this is to protect sacred relics (clan founders' skulls and certain bones) the finest and most significant relics which belonged to an important clan ancestor but also the living descendants – a strong tradition of the peoples of Gabon.
According to Dr. Louis Perrois (France), one of the greatest connoisseurs of the art of Gabon who states that "many reliquary guardian figures of this type were collected during the 1920s and 30s. It is known that the rituals of the ancestor cult would only be actively practiced until around 1940 among the Kota people."
Provenance: Belgian private collection – acquired through a Brussels art dealer.
Age: Est. early 20th Century.
Condition: This is a rare Bakota Reliquary figure. Fine details, no damage, cracks or insect bites (which are prevented from oil saturated wood).
Dimensions:  H: 33½ (40) cm; W: 39 cm, D: 3 cm.
Literature:
Louis Perrois, Chefs-d'oeuvres d'Afrique, dans les collections du Musée Dapper. Ancestral Art of Gabon, Musée Dapper Paris, ill. p.38; colour il. 5
Alain and Francoise Chaffin, L'Art Kota', ill. 84, 85, 128, 129, 130, 131, 132, 134, 135, 136, 137, 179, 188, 190, 192, 193, 194, 199;
Pierre Redouin, Les Souffle des Esprits. Art sacré du bassin de l'Ogooué, ill. p. 42, 205, 209, 210.
Bernard Dulon (catalogue ed.), Ancetres Kota, texts by Louis Perrois, colour il. 8, 9.
'Tribal Art Magazin', special issue, Kota. New light, winter 2015.
Kerchache (et al), ART OF AFRICA.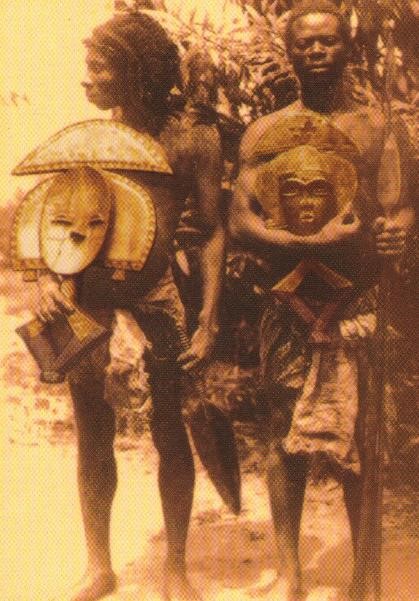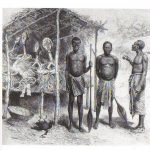 Two Kota-Obama men arrive at a Swedish mission post in French Equatorial Africa, present-day Congo-Brazzaville, to hand over reliquary figures.
Photographed by the Swedish missionary G.A. Jacobsson, probably in 1917.
Request price for Bakota Reliquary