HCK 0106-12
Kulango Spoon, Ivory Coast
H: 37 cm (14,6″)
The conical base of Kulango spoons show wear at the bottom indicating that they were used as pestles for grinding food.
African spoons symbolize social values such as compassion and social responsibility. In many African countries spoons are given to the most hospitable, talented and popular woman in society. Spoons are primary used as status symbols and typically have sculptural qualities.
Estimated age: Second half of the 20th Century.
Provenance: Belgian Collection
The distillation of the human body to a minimalist new form was the focus of Alberto Giacometti's sculptures in the 1920s. The artist owned a Kota sculpture from Gabon as early as the 1920s and his bronzes from the same period, most notably Femme cuillère (1926-1927) are evidence for his appreciation of the genius of African artists.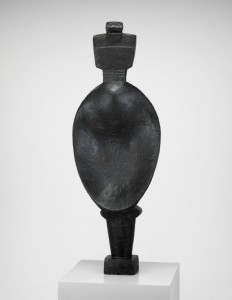 Alberto Giacometti (1901-1966), Spoon Woman, 1926-27 (bronze).
© 2016 Succession Giacometti / Artists Rights Society (ARS), New York / ADAGP, Paris
Click here for more information about the Kulango people
Request price for Kulango Spoon