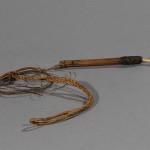 BHK 0106-41
Tool for engraving / decorating carvings from Papua or Papua New Guinea
Wood, attached bird claw
L: 12 cm (4,7″)
In the 19th century such ethnographic tools were used for engraving / decorating carvings from Papua or Papua New Guinea.
Nearly all carvers working today use modern metal tools and sanding papers. Traditional tools, however, are sometimes still seen, and show the resourcefulness of Papua New Guineans. In pre-contact New Guinea, when metal was not available, tools were made with available local materials, including clam shells and splinters of basalt. Engraving was often done with animal teeth, boars tusks, or sharpened bird bones, and sanding was either done with sand or with sharkskin. Some of these methods still survive, including flint-knapping to make adzes.
Provenance: Collected in situ in 1984 by a Danish explorer and collector of Oceanic tribal art.
Request price for Engraving Tool