HCK 0106-12  
Kulango Spoon Sculpture, Ivory Coast
This 'spoon' differs in its style and artistic expression from traditional African spoons. Its design transcends the purely utilitarian nature of many other examples. Presented on a pedestal, it is a wonderful, elegant shape. The shape is characterized by having two functions. Spoon at one end and wear at the bottom indicating that it was also used as pestles for grinding food and spices.
Estimated age: Second half of the 20th Century.
Measure: H: 33, W: 10½, D: 8 cm – Weight: 300 grams.
Condition: With its beautiful dark brown patina and signs of natural wear after grinding at the bottom and a single, quite thin 3 cm, vertical crack at the top of the spoon, this spoon is despite its age and visible diligent use otherwise in a very good condition.
Provenance: Belgian Collection acquired through a Brussels art dealer in 2006.
Literature:
A lot has been written about these 'Kulango Spoons'. Mostly in auction catalogs and in books on African tribal art. Among other things, in 1988, where Jacques Kerchache, the second who published such a spoon in his magnus opus L'Art Africain (p. 377, n. 336). Among the hundreds of objects illustrated in this book, only one is purely non-figurative: a single lustful spoon identified as Kulango. Gérard Berjonneau and Jean-Louis Sonnery had published it a year before in their book Rediscovered Masterpieces of African Art (1987, p. 270, no.273). In 2010, this special spoon was sold by Sotheby's for € 78,750, -. A similar spoon, again identified as Kulango, sold for 13,000 euros at the famous Goldet auction in 2001 (lot 223). It was also published by Christiane Falgayrettes in the exhibition catalog Cuillers-Sculptures (Paris: Editions Dapper, 1991: p. 68). Not surprisingly, these spoons have become very popular ever since, and in recent years it became relatively easy to find examples in the trade (often at very fluctuating prices). More than a dozen were published, always identified as Kulango.
What may be even more interesting is that these spoons may not even be from Ivory Coast but from Ashanti, Ghana! It was thanks to NY retailer Amyas Naegele, who in a Facebook photo album showed a group of essentially identical spoons, all branded as Ashanti. He writes:
Except for the small, slender example that pre-dated them, they were all gathered in central Ghanaian villages between 1990-2006 by friends. Each example is well used and subtly varies from the next in age, wear and form. They are used in the kitchen.
Michelle Gilbert, an art history professor at Trinity College in Connecticut, has been conducting field studies in Akwapim, an Ashanti city, for decades. She bought several examples locally and insisted that they be Ashanti. Further, reliable Ghanaian art dealers brought many of these spoons to the United States and always described them as Ashanti!
So, in all likelihood, Berjonneau, Sonnery, Paudrat or Kerchache were probably misled, and their misidentification has been repeated ever since. As Amyas Naegele correctly says (personal communication, 08-10-13):
It is possible that Kulango also made such spoons, but the shape shows relatively little variation – certainly not the kind of variation one would expect over an area ranging from Akwapim to Kulango land. The falsity of the origin of these spoons spread on a background where there was no information and no expertise and certainly no conflicting information. (this description is taken from various texts from international auction houses, Sotherby's, Christies catalogs among others).
The distillation of the human body to a minimalist new form was the focus of Alberto Giacometti's sculptures in the 1920s. The artist owned a Kota sculpture from Gabon as early as the 1920s and his bronzes from the same period, most notably Femme cuillère (1926-1927) are evidence for his appreciation of the genius of African artists.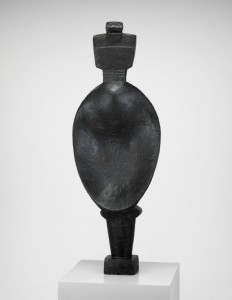 Alberto Giacometti (1901-1966), Spoon Woman, 1926-27 (bronze).
© 2016 Succession Giacometti / Artists Rights Society (ARS), New York / ADAGP, Paris
Click here for more information about the Kulango people
Request price for Kulango Spoon