EDC 0715-6
Namji (Doayo, Dowayo, Doyayo, Namchi) Fertility Doll, Cameroon
Wood, leather, glass pearls and cowry
H: 33 / 36 cm, W: 14 cm, D: 4 cm
Namji is the people inhabiting an area in the West of the north Cameroon. The Namji tribe is famous for their wooden dolls carved with geometric features and adorned with multi-colored bead necklaces, cowrie shells, coins, metal strips, fiber and leather.
This fetish figure in the form of a doll is despite its age very well preserved. Richly decorated by small glass beads around the neck, shoulders and waist. The fine cuffs on the arms and legs with cowry shells symbolize the wish that the woman carrying the doll wish to get a beautiful child.
The dolls was held by young Namji women to play and to ensure their fertility, and they are considered among the finest and the most beautiful dolls in Africa. They are carved from solid hardwood. The doll would have a name, be fed, be talked to and be carried strapped to the back everywhere the child would go. The most popular place to carry ones' doll is strapped to the back the way real infants are toted around. This was the young girls' first baby and it was her responsibility. This doll helped prepare the young Namji woman for her role as mother in her future life. Though most of them represent females, they sometimes appear as couples.
Age: Est. beg.-mid 20th Century.
Provenance: From the Dessau collection of art founded in the 1950s
Literature: Galerie Amrad, African Arts. Esther A. Dagan (Hrsg.), African Dolls for Play and Magic, 1990, S. 91, Abb. 25.- "Isn't s/he a doll": Play and ritual in African sculpture, published by the Fowler Museum, UCLA, U.S.A.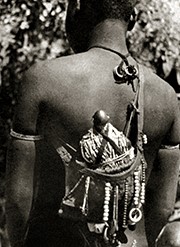 A Namji woman carrying a doll on her back (from Weidholz 1943 pl. 57)
Request price for Namji Doll