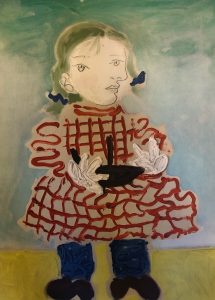 0322-2
Pablo Picasso (after painting from 1937))
Maya en tablier (1965)
Lithograph in colours on Arches
Visible size: 79 x 60 cm
Ed. EA/200
Published by Moulot, Paris
Historical Description
This exquisite portrait, done of Picasso's first daughter, Maya Picasso, exudes a personal, loving charm in which only a father can relate of his children. A playful, childlike nostalgia is forever evoked with this work, not only capturing Maya at age 3, but also capturing a time in Picasso's life in which he was deeply inspired by his own family. Set against a bright spring green background, Maya is portrayed here wearing a red and white checkered pinafore, with her hair in pigtails on either side. The colors in this work are at the forefront of Picasso's intention here, using incredibly vibrant color combinations that merely enhance and divulge Maya's own personal character and innocence. Sun yellows, lapis blues, and brilliant reds are a further testament to Picasso's creativity and innovation. The grand scale of this portrait cannot be ignored, helping the colors to explode into our space, allowing Maya's own childlike sentiment to be contagious to all who view and admire her.
Based on an original oil work dating to 1938, this work has been printed by Fernand Mourlot under the supervision of Pablo Picasso. Dated in the stone: '27.2.38' and numbered 51/200 in pencil in the lower left margin. Hand signed by Pablo Picasso (1881 – 1973) in pencil in the lower right margin.
Catalogue Raisonné & COA
It is fully documented and referenced in (copies will be enclosed as added documentation with the invoices that I will accompany the final sale of the work) :
1) Mourlot, Fernand. Gravés dans Ma Mémoire, Edition Robert Laffont: Paris, 1979. Printing processes of this work is photographed as plate 3 featuring Mourlot's studios in Paris on rue de Chabrol.
2) The Online Picasso Project. http://picasso.tamu.edu/picasso/. Listed and illustrated as catalogue raisonné no. OPP.38:007.
3) The Picasso Project. Picasso's Paintings, Watercolors, Drawings, and Sculpture: A Comprehensive Illustrated Catalogue 1885 – 1973, Alan Wofsy Fine Arts: San Francisco, 1997. Painting is listed and illustrated as catalogue raisonné no. 38-061(a) on pg. 150.
4) Rubin, William, ed. Picasso & Portraiture: Representation and Transformation, Harry Abrams, Inc.: New York, 1996. Original painting illustrated and captioned on pg. 376.
Request price for Pablo Picasso