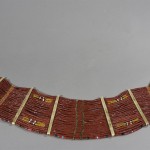 KOC 0215-10
Naga Konyak glass bead belt/sash, Nagaland, India
This is a very fine, antique glass bead belt in white, red, various shades of brown, blue, light green, yellow and white. The beads are on 29 strings on a plant fiber cord with ten Rhino Bone.
The piece is in overall good condition for its age which is estimated to be from the late 1900th Century. This piece of attire was once the only item worn by the girls of the lower Konyak when the British first made contact.
Dimensions:  L: 73 cm. / W: 12 cm. (at widest point)
Age: Est. more than 100 years old.
Provenance: Acquired in situ by a Danish collector in the early 1960s .
Literature:
Stirn, Aglaja & Peter van Ham: The Hidden world of the Naga: Living Traditions in Northeast India. London (2003)
Oppitz, Michael, Thomas Kaiser, Alban von Stockhausen & Marion Wettstein: Naga Identities: Changing Local Cultures in the Northeast of India. Gent: Snoeck Publishers (2008)
Kunz, Richard & Vibha Joshi: Naga – A Forgotten Mountain Region Rediscovered. Basel (2008)
Alban von Stockhausen: Imag (in) ing the Nagas: The Pictorial Ethnography of Hans-Eberhard Kauffmann and Christoph von Fürer-Haimendorf. Stuttgart (2014)
Request price for Naga belt