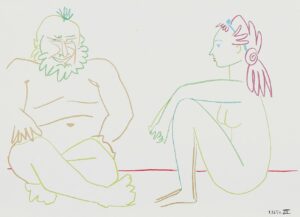 HMK 0522-6

Pablo Picasso
Composition from "La Comedie Humaine", 1954, VERVE (Mourlot)
Original Lithograph in colours
Visible size 27×35 cm.
In the period between November 1953 and February 1954, Picasso performed an extraordinary series of drawings, collectively known as "La Comedie Humaine". Inspired by the French author Honoré de Balzacs (1829-48) which consisted of 91 finished works (stories, novels or analytical essays) and 46 unfinished works (some of which exist only as titles). It later became five plays and a collection of humorous tales.
The suite addresses the relationship between a painter and his model, which was one of the definitive themes for Picasso. There is a wonderfully free-flowing progression from one drawing to the next, and through them Picasso explores the intimacy of the interactions between the two characters.
As with any moment of evolution in Picasso's art, his objective reflection was stimulated by changes in his personal life. With her distinct 'Greek' profile and long hair swept back behind her head, the model we see in "Dessinateur et modèle" is a new arrival in Picasso's imagery, and her appearance coincides with Picasso's first encounter with Jacqueline Roque in December 1953. Jacqueline, who would later become the artist's wife and last muse, possessed what Picasso celebrated as a sphinx-like presence and physique. The strength of the relationship between Picasso and Jacqueline was immediately palpable and is translated by the artist in these drawings with a tenderness that is at once both chaste and seductive.
In 1954, the drawings were interpreted in lithographic form and were published with an introduction by Michel Leiris, who remarked: "Painter and model, man and woman" – in the field of art as in the field of love there is always a duel between the subject and the object, opponents forever facing each other and separated by a chasm that no one, no matter how big he is, can hope to bridge over them.
I perioden mellem november 1953 og februar 1954 udførte Picasso en ekstraordinær serie af tegninger, samlet kendt som "La Comedie Humaine", inspireret af den franske forfatter Honoré de Balzacs (1829-48.)
Suiten omhandler forholdet mellem en maler og hans model, som var et af de definitive temaer for Picasso. Der er en vidunderlig fritflydende progression fra den ene tegning til den næste, og gennem dem udforsker Picasso intimiteten i samspillet mellem de to karakterer. Der skal ikke meget til for Picasso at gengive en intim scene af to forenklet smukke figurer. Den maleriske kraft og de evner, som Pablo Picasso havde, vises yndefuldt gennem de rene linjer, hvor vores øjne nemt navigerer i scenen og forstår, hvad der foregår.
Som med ethvert evolutionsmoment i Picassos kunst, blev hans objektive refleksion stimuleret af ændringer i hans personlige liv. Med hendes distinkte 'græske' profil og lange hår fejet tilbage bag hovedet, er modellen, vi ser i "Dessinateur et modèle", en ny ankomst i Picassos billedsprog, og hendes udseende falder sammen med Picassos første møde med Jacqueline Roque i december 1953. Jacqueline, som senere skulle blive kunstnerens hustru og sidste muse, besad hvad Picasso fejrede som en sfinkslignende tilstedeværelse og fysik. Styrken i forholdet mellem Picasso og Jacqueline var umiddelbart til at tage og føle på og er oversat af kunstneren i disse tegninger med en ømhed, der på én gang er både kysk og forførende.
I 1954 blev tegningerne fortolket i litografisk form og udgivet med en introduktion af Michel Leiris, der bemærkede: "Maler og model, mand og kvinde" – på kunstens område som på kærlighedens område er der altid en duel mellem subjektet og objektet, modstandere for evigt over for hinanden og adskilt af en kløft, som ingen, uanset hvor stor han er, kan håbe på at bygge bro over dem.
Request price for Pablo Picasso